Editor's Note: We reviewed our shoe selections on March 8, 2023 and have added new recommendations from our most recent round of testing. Some pairs are currently on sale as newer versions are expected to be released soon, so we have updated shopping links to retailers that still have these models in stock.

The best running shoes for women share the same class-leading features with the best shoes overall—they're lightweight, comfortable, cushioned, and just supportive enough where you need it most. But that locus of support is where some of the biggest differences between men's and women's running shoes can be found. Check out our picks below, or scroll deeper for more in-depth reviews of the shoes that earned especially high rankings from our female testers. Plus, you'll also find expert tips and advice for buying your next pair.

The 10 Best Women's Running Shoes
Foot Shape
Women's feet aren't just smaller, narrower versions of men's feet—there are differences in overall shape that affect shoe fit. Women's feet tend to be comparatively wider in the forefoot, with a narrower heel. Running shoe makers consider this statistical difference when designing their shoes for women. For example, a brand may build the same model of a shoe with a different heel shape and sometimes different heel materials between its men's and women's version.
The Hip Factor
Researchers have also found that because women tend to have wider hips than men, their feet are more likely to strike the ground toward the outside of their shoe soles. The inward rolling of the foot that results from this is known as pronation, which explains why more women are believed to overpronate than men. Some women's running shoes account for this increased tendency with different materials used for support through the sole.
Built for Women
While most brands have been designing models that are women-specific since Nike launched the Lady Waffle Trainer in 1978, there's recently been an influx of shoe releases that are women-focused.
The Adidas Ultraboost 22 has a new women's last that was constructed using data from 1.2 million foot scans (both male and female) as reference, and tailored by an all-women team. Skechers's GOrun Persistence was created solely through the input of women runners. Lastly, Puma's Run XX Nitro is a model solely for women backed by runner feedback and validated through an independent study at the University of Massachusetts Amherst.
The above is a testament that brands are serious about providing women with shoes customized specifically for their feet and biomechanics. Companies are not only conducting research and collecting data; they're listening to women runners' feedback, making improvements, and iterating on current designs, as well.
How We Tested
We selected all the women's running shoes in this roundup based on feedback from the women on our 250-runner-strong wear-test team, the expertise of our test editors, and the mechanical data collected in our RW Shoe Lab. Every shoe was evaluated over the course of at least 100 miles, with attention given to overall performance, comfort, ride, longevity, and value. Based on our extensive testing, the options below are currently the best running shoes for women so far in 2022.
---
The Blissfeel 2 is the same weight as its predecessor, yet it feels slightly heavier and firmer, even though the stack height and foam are unchanged from the original model. Running in the 2 felt like running in Adidas's Ultraboost. It's thickset, but there's plenty of pop to the 2's ride. The toe room and cushioning felt like a reprieve after testing narrower, less-supportive trainers.
---
Hoka's most cushioned shoe, the Bondi, has a new extended heel to provide shock and absorption. It's like mattresses for your feet. Its profile is slightly curved as well to give you smooth heel-to-toe rocker transitions. Heavy on plush goes hand-in-hand with bulk; predictably testers commented the Bondi, even though the eighth iteration is its lightest, was "a lot of shoe."
"That being said, these shoes were not built for speed," said a tester. "They are meant for a leisurely run or walk that can provide comfort over a long distance, and in that category they deliver."
---
---
In your quiver of trainers, the Elite is the pair you pull out with intention. How many miles you pile on your shoes is dependent on you as a runner, but we've found, after almost 1,000 miles of wear-testing by nearly a dozen runners, the Elite is best reserved for race day. Like Saucony's other racing models, the Endorphin Pro+ and Endorphin Pro 3, the Elite's propulsive ride demands that you run faster. Easy 4-milers transform into marathon-paced long runs
---
Ultraboost Light is 30 percent lighter than the original Boost—our lab measurements put the Ultraboost 22 at 11.7 ounces for a men's size 9. And since the Light version still has similar chemistry to original Boost, it felt familiar to our testers. "I'm a big fan of Adidas's midsole foam. It's classic to the Ultraboost, and the shoe is very responsive because of it," said one tester, who runs Division I collegiate track and field.
This model might not be a feather when compared to today's trainers under eight ounces. But it's lighter and easier to steer on long runs. "Compared to the first-generation Boost, this feels much more stable to me," said one tester, who has been testing shoes with us since the Ultraboost's initial launch. "I used to worry about twisting my ankles; that is no longer the case with these."
---
The Axon 2 was a breakout hit among testers last spring. Trailing behind it is Saucony's new stability shoe, the Tempus—and it's garnered the same favor. Unlike the Axon 2, which is priced astonishingly low at $100, the Tempus costs $160, the baseline for a premium trainer. This is because its new stability tech takes some DNA from Saucony's Endorphin series. At the Tempus's core is Pwrrun PB, the same Peba-based "superfoam" found in the brand's super shoe, the Endorphin Pro.
Saucony categorizes the Tempus as "structured cushioning" instead of stability (still a four-letter word among runners), but neutral and overpro­nating testers alike found the shoe supportive. The curved, EVA-based Pwrrun frame, which starts above the Pwrrun PB under the heel, is the key stability component. The midsole and frame are contoured to both lend support and propel your run.
---
The Via Olympus provides an über-cushioned ride with a generous platform of foam for long-distance running—very long-distance running. It has an Ego Max midsole, which is an EVA-based compression-molded foam. It's the most accessible zero-drop trainer due to its slightly curved sole to promote a rocker motion, and its foot shape is wider and more accommodating. The molded heel collar and pillowy tongue amplify the comfort factor.
---
The first Brooks Hyperion Elite had DNA Zero foam, which was later replaced with the Hyperion Tempo's DNA Flash for a softer, bouncier ride. The Hyperion Max is the Tempo's more cushioned, yet tenths-of-an-ounce-lighter, sibling. While their stretch woven uppers are the same, their rides are anything but. Brooks jacked up the Max's midsole with four extra millimeters of nitrogen-infused DNA Flash for a springier but plusher ride. Inside word is this same foam will be in future Brooks Ghost and Glycerin models.
---
The original Catamount, Brooks's first trail shoe with a DNA Flash midsole, was one-part super shoe with its responsive, high-energy return platform. Now Brooks has added a second ingredient: the SkyVault plate. The SkyVault is specially made for providing enhanced proficiency on the uphill and a smooth and stable ride on the descent, making it primed for rolling trails. The plate is curved in the forefoot to help propel you quicker off your toes on the ascents. It also doubles as a rock shield.
---
The Runventure has just enough cushioning to handle occasional trail debris in your path. This lightweight trainer's weight savings come from omitting a rock plate in the midsole. Most of our testers like the shoe's nice ground feel, but some desired more protection for gnarlier terrain. The outsole is Vibram XS Trek Evo rubber, which testers highlighted for its reliable traction on slick surfaces and loose dirt and gravel. And, since the lugs aren't too aggressive, you can transition easily onto the road from the trails, or vice versa.
---
The Speedgoat might be more popular, but we're going to claim the overhauled Mafate Speed is Hoka's best trail running shoe right now—especially if your trails require comfort and versatility. We found this out firsthand by using the shoe to race up and down Whiteface Mountain.
There have been a number of big changes to this model that make it more runnable and comfortable than before, including a new two-layer foam setup. The Profly+ midsole puts a lightweight, bouncy foam closest to your foot, which boosts comfort and makes the shoe feel alive when you're running along hard-packed ground. The bottom layer is durable and firm enough to crush over sizable rocks and protect the bottom of your foot.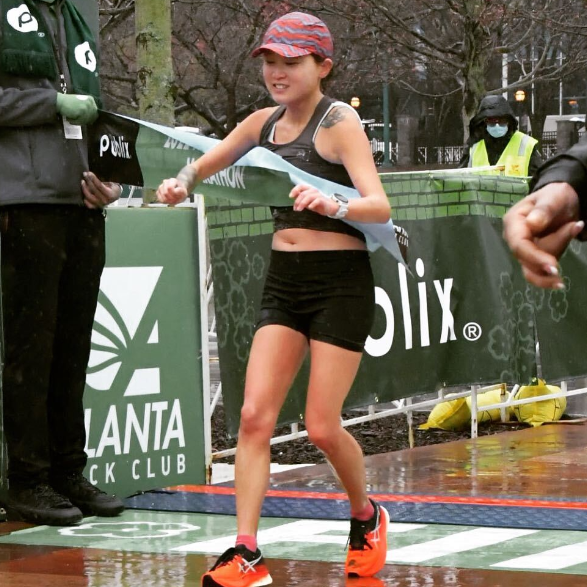 Test Editor
Amanda is a test editor at Runner's World who has run the Boston Marathon every year since 2013; she's a former professional baker with a master's in gastronomy and she carb-loads on snickerdoodles.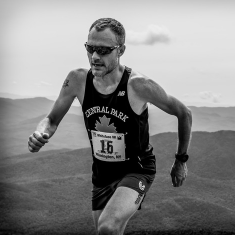 Runner-in-Chief
Jeff is Runner-in-Chief for Runner's World, guiding the brand's shoes and gear coverage. A true shoe dog, he's spent more than a decade testing and reviewing shoes. In 2017, he ran in 285 different pairs of shoes, including a streak of 257 days wearing a different model.