Editor's Note: This article has been updated on September 9, 2022 to include recall information for the Uppababy Ridge Jogging Stroller.

Between a demanding work schedule and busy personal life, it can be hard to find time to exercise. Add a baby to the mix and any free time you had completely disappears. Fortunately, the latest breed of jogging strollers allows you to maintain your fitness without having to pay a babysitter. There are a variety of running strollers with different features, but the jogging strollers that passed our tests on the roads with 6-month-old babies to 5-year-old kids have all the features you need to comfortably go the distance, in any weather.

Best Jogging Strollers
Starting Early
Most experts will suggest you don't take your child out in a jogging stroller until they're nearly a year old—they need to have the strength to be able to hold up their head. While some of us might push that advice, you can get an earlier start by choosing equipment that converts from a standard stroller to an infant model. Some models, like the Thule Chariot Cross, have a padded sling that cradles your baby with protective sides. Other models will accommodate your baby's carseat for extra assurance.
Larger Wheels

Don't even think about running with that City Mini you got as a shower gift. The small wheels aren't stable enough, and the stroller won't have the suspension needed to securely handle running speeds, bumpy roads, and cracked sidewalks. Instead, look for dedicated jogging models that have larger wheels, which roll more smoothly at faster paces and better absorb imperfections on the roads.
Lock the Front Wheel
Most jogging strollers now feature wheels that can both swivel and be locked in the straight-ahead position. For running, you need to have that wheel locked. If it's allowed to swivel, it will cause instability and you could crash. At slower speeds, allowing the wheel to swivel makes it easier to steer while walking. A tip for easier turning when the front wheel is locked: push down slightly on the handlebar to take some weight off the front wheel and then swivel the stroller around a turn. With some practice, you'll be able to do it one-handed without slowing down.
Adjustability
The top strollers will grow with your child and family. If two parents plan to use the stroller, look for a model that has an adjustable handle. Many models click into at least three positions, so shorter runners can jog as comfortably as taller parents. It may sound like a small bother, but your shoulders and arms will thank you at the end of any moderately long run behind the wheel.
A few models, like the Thule Chariot, even allow you to adjust the suspension. So, as your kid grows, you can tweak the ride to make it comfortably smooth for your passenger. Is it absolutely necessary? No, but if it keeps your child from complaining about bumps, it'll make your miles interruption-free.
Do You Need a Hand Brake?
A hand brake can be a wonderful addition to a jogging stroller if you live in a hilly area. The brake allows you to maintain form and pace when running downhill, rather than having to lean back to keep the stroller under control. This may not be a big deal on small inclines, but with long steep hills, a hand brake can help you maintain good form and safety.
Speed
Let's face it, you're going to use more effort pushing a 25-pound stroller and 15-plus pound baby—and running uphill can be a real grind, if you're able to run at all. So, leave your watch at home and enjoy the mileage with your kid. The stroller is a liberating tool that lets you get in a run when you'd otherwise not be able to. We've found the time with our child can also be one of learning: A game we like to play is to let our child tell us whether to turn left or right. If you really must get in a speed workout, look for one of the faster models below and seek out flat land—or hire a babysitter.
How We Tested
Every stroller on this list has been thoroughly tested by our team of editors and parents on our wear-testing team. We research the market, survey user reviews, speak with product managers and engineers, and use our own experience running while pushing these strollers to determine the best options. We've done easy runs with infants, long runs with bigger kids, and even ran errands to test cargo capacity. We've run with children as young as 6 months, up to a 7-year-old that's the tallest in her second grade class. We evaluated the strollers on performance, price, comfort, handling, value, reliability, and fun to come up with this list of strollers that will best serve the needs of parents looking to run with their children.
---
Thule Chariot Cross
For parents who want to run outside year-round, in any weather
Weight: 32.1 lb.
It's a real splurge, to be sure, but if you want to run year-round with your kid—wind, rain, and snow be damned—the Chariot Cross is the rig you want. It's a staff favorite because it converts from a rolling stroller to a bike trailer, and can even be used as a cross-country ski sled (I've pushed it while running in snowshoes, too). The front is covered by a screen and plastic shield, and you can pull each down independently, creating a protective bubble to keep your child safe and warm during the coldest months. I've pushed my kid in a blizzard that dumped six inches of snow, yet she was clammy inside her snowsuit, snuggled under a blanket. While the Chariot is larger than other models, it rolls effortlessly on flat ground. You'll love that large construction as your child grows. My daughter still rode in it when she was a 7-year-old and the tallest in her class, and didn't complain (much)—there was no chance she'd fit in more traditional models. Also, the enclosed design means you won't be stopping to pick up lost stuffed animals or Tupperware. It's also available in a double-wide model if you have a pair of tots to push.
---
BOB Rambler
Wise choice for apartment dwellers or runners who want to pack it in a compact car
Weight: 25.3 lb.
The compact Rambler is ideal for city runners or anybody with limited space. Thanks to 12-inch wheels and an origami-like fold-flat design, it fit easily into the trunk of my already cluttered Mazda 3, and I found that navigating crowded grocery-store aisles was a snap. It's the closest thing you're going to get to a normal city model that still lets you run safely. The little wheels don't handle choppy roads as well as larger models, and the whole thing feels a bit tippy when you use it with a heavier child—the stroller is rated to 75 pounds, though my kid was pushing the limits by the time she weighed 50 pounds. But you get used to that quickly and still get the nice features found on other BOB models, like bump-absorbing shocks, a generous canopy, and one-handed recline adjustment. Although it's small, it'll work for your family until your child is big enough to ride a bike. Also, given its size, we were pleasantly surprised by the roomy cargo basket underneath that let us pick up a bag of groceries at the end of a jog.

---
Graco Modes Jogger 2.0
Budget-priced but fully capable
Weight: 33 lb.
This budget stroller costs half as much as most of the models here, and will work great for parents who only head outside with their kids occasionally on nice days. It has some helpful features that make it a solid value, too, like 16-inch rear wheels so it rolls smoothly, and a cargo basket underneath that's large enough to hold a bag of groceries or a menagerie of stuffed animals. Plus, it's compatible with all Graco infant carseats, and those can be positioned facing at the parent or looking ahead. At this price, expect some trade-offs. The parking brake, while helpful, requires stepping on two pedals to operate, and we noticed some play in the frame's main pivot joint, which gives it a rougher ride than some (the lack of suspension didn't help either). Still, it's a nice economical option—and you can use the money you saved to buy more running gear.
---
BOB Revolution Flex 3.0
Easy, one-handed operation for parents on the go
Weight: 28.5 lb.
The newest Revolution Flex comes with extra storage and a more comfortable cockpit for your kid. Our tester's 19-month-old son isn't talking enough to tell Mom just how cozy it was, but the Flex 3.0 offered him more space despite the frame actually being more compact than other strollers she's tested. The new seat is designed using compression padding like you'd find in a kayak, so your baby won't grumble as you leg out another mile on your long run. Meanwhile, our tester appreciated the new zip pocket on top of the canopy, which was big enough for her iPhone and kept it within easy reach. It's worth noting that you don't have to worry about the quick-release wheels that made news; the Flex 3.0's front wheel is bolted to the fork. Our lone gripe: the thick spokes on the wheels made it tricky to get a bike pump fitted to the valves.
---
Bumbleride Speed
A versatile stroller for shopping trips as well as long runs
Weight: 26 lb.
Jogging strollers that are too large are hard to maneuver, meaning you'll never use them for anything other than running. But, if they're too small, they become tippy and hard to control. The Bumbleride Speed has a compact wheelbase that's easy to get through doorways by yourself—trips around a grocery store or shopping mall are a breeze—yet stabilizes when you lock the front wheel and hit start on your Garmin. Despite there not being any suspension or shock absorbers, the frame is built to take up some of the bumps without jostling your precious cargo too much—it's not nearly as shake proof as the Thule Chariot Cross or BOB Revolution Flex 3.0, but it doesn't bounce wildly, even when you're running quickly. An oddity, however, is that the steering is highly responsive to the slightest inputs, so you'll find yourself zig-zagging down the road on your first outing. You get used to the flow quickly and, with a small spin of the adjustment dial, you'll have it pulling straight ahead after just a few runs. One of the best features of this stroller is how easily it collapses. Pull the two trigger levers by the hand grip and it folds into thirds—the handle and seat back bend up over the seat toward the front wheel, while the rear wheels drop down and head the same direction. A tip: Invest in a roll of bicycle handlebar tape. The rubberized grips get slick with sweat; tape can give you a little better hold on steamy runs.
---
Uppababy Ridge
A well-thought-out and excellently crafted running stroller
Weight: 29.2 lb.
IMPORTANT NOTE: On September 1, 2022, issued a voluntary recall of its Ridge stroller because the design of the disc brakes could cause amputation of a non-occupant child's finger if they get it caught in the openings. Go to uppababy.com/ridge/brake-discs/ to confirm if your all-terrain Ridge jogging stroller is included in the recall. If so, you will receive free replacement disc brakes for both wheels.
I once pushed my daughter in the Thule Chariot Cross 2 during a blizzard and we ran a few miles on a flat tire—we didn't realize it until the end of the run because there was so much snow on the ground. But a flat can be a real adrenaline killer when you're a few miles from home. No sweat with the Ridge, however, which has tires that can't be punctured. But they roll and feel like real tires with inflatable tubes, so much so that I forgot about this feature 6 months into testing and was stunned to find the wheels still hard when I pressed them with my thumb before heading out for a jog. It's one of the seemingly small but well-considered features of this stroller that makes it a top performer. The other is the dual disc brakes: The brake lever locks the tires instantly, bringing you to a skidding stop in a panicked moment. (Use a feather touch to gently control speed on descents.) There are other really smart details, though, that make this extremely simple to use. For example, rather than reaching underneath and fiddling with some latch or lever at the front wheel, you simply push a top-mounted button to lock it straight ahead for running. Press it again to release the lock and let the wheel swivel for casual use and easier maneuverability. And the entire seat fabric easily releases from the frame thanks to integrated buttons, so you can toss the whole thing in the wash—yes, your kid's going to trash the cockpit. Our lone quibble is that the Ridge is highly responsive to directional inputs—it initially felt squirrelly and I zig-zagged down the road. But, after a couple miles, I found the sweet spot (grip the handle in the middle with just one hand at a time) to smooth out that ride for your kid.
---
Thule Urban Glide 2
Designed for speed, excels in crowded spaces
Weight: 25 lb.
While Thule makes one of our favorite year-round strollers, the Chariot Cross 2, it also makes more conventional running strollers. One, the Glide 2, is a sleek, lightweight model that you'll see speedy record-chasers pushing. Not all of us are seeking Guinness accolades, however, so the Urban Glide 2 better meets our needs by marrying the performance of that model with everyday utility. RW features director Matt Allyn pushes his daughter along on the streets of Queens, New York in the Urban Glide 2. For those outings, he loves its storage. "I can fit her portable potty, snacks, and extra clothes underneath," he says. "We've also stopped midrun to pick up baked goods." It sports a hand brake, but it doesn't have the stopping power of the Uppababy Ridge. However, it's perfectly adequate for relatively flat city sidewalks.
---
Cybex Zeno Multisport Trailer
Push, pull, or tow this buggy
Weight: 32 lb.
This well-built stroller is like a mashup of the Thule Chariot Cross that we love and the novel tow-behind KidRunner. It has a pod construction that completely shields your kid from any rain, sun, and cold weather, like the Thule. And, it can convert to multi-sport modes, so you can tow it behind your bicycle as well. We tested the stroller in a standard push-from-behind setup, but an optional waist attachment is now available, so you can drag your kid along behind you, swinging your arms freely. We like the huge, slim wheels and mountain bike–like suspension that eats up huge bumps in the road. We took it for runs along a washed out canal towpath and it glided over rutted sections. The fixed front wheel is larger than most jogging strollers, helping to smooth out the ride for your kid. Assembly is trickier and more complicated than most strollers, but we like how the fabric panels zip onto the frame—if they get especially nasty you can take them off to wash, rather than resort to the garden hose and brush method. There are a couple quirks: The handlebar is rounded and rather narrow, so if you have large hands you might find it a little cramped. Also, your kid's weight sits a bit further forward than in most strollers, so it takes extra effort to pop the front wheel free off the road in order to make turns. Neither issue spoils a run.
---
Thule Chariot Lite
Good value for a year-round jogging stroller
Weight: 25.8 lb.
Want the versatility of the Chariot Cross but can't justify the high price tag? The Chariot Lite has many of the same features with just a few compromises to save you money. Like the Cross, the Lite can be used as a jogging stroller, bike trailer, and even a cross-country ski rig—in any situation, your kid stays warm and dry inside the bubble-like construction. But, the Lite doesn't have a reclining seat, adjustable suspension, or the cargo storage compartment. These could be dealbreakers if you need to head out at nap time, but for older kids who won't complain, it might be worth buying this stroller and putting the extra $200 toward another pair of running shoes.

---
Baby Jogger Summit X3
Big wheels, hand brake, and soft shocks make it great for running on road or off
Weight: 28.4 lb.
The X3's big 16-inch rear wheels, suspension, and hand brake make it the burly SUV of the bunch—it rolled easy over roots and crushed-stone paths (and helped keep our tester's cup of Lucky Charms from spilling when they ran off-road). But it also felt great on city streets, where it took the edge off of cracked tarmac and was easy to maneuver. Although the X3 costs more than some others, it's loaded with features: A hand brake has true stopping power on steep downhills, the huge retractable sun canopy has ample venting, the rear wheels pop on and off easily (the front is a little trickier to access), and the frame folds flat in seconds with one hand.

---
KidRunner
This novel design lets you run fast and swing your arms freely
Weight: 19 lb.
This option looks like an ancient Roman chariot but has modern design features with real benefits. If you can't stand the thought of pushing your kid while you run, strap the KidRunner to your waist and tow your little one behind you. The setup let our testers run more naturally—and faster—than with other models, freely swinging our arms instead of being tethered to a handlebar. Plus, the slim design slices through the wind, so you don't feel like you're pushing a sailboat on a windy day. The padded waist harness balances weight just right, so you feel only a slight tug when accelerating or motoring uphill. And we love that its gentle rocking motion sent our kid to dreamland on nearly every run. The company has recently responded to a few of our gripes about its initial design, updating the latest version with a cockpit that collapses flat for transport—previously it was really just too large to put into a car. It also now has storage, including a pocket inside the stroller because, of course, you're handing over the iPhone so your kid can watch Youtube or jam the Frozen soundtrack. And, after lengthy shortages because of supply chain disruptions, the small company is once again able to ship strollers to new parents.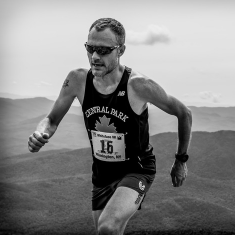 Runner-in-Chief
Jeff is Runner-in-Chief for Runner's World, guiding the brand's shoes and gear coverage. A true shoe dog, he's spent more than a decade testing and reviewing shoes. In 2017, he ran in 285 different pairs of shoes, including a streak of 257 days wearing a different model.