Whether you're a predawn runner or are missing out on daylight during post-work sessions, running outside can be a logistical challenge. But when equipped with a quality headlamp (and reflective apparel, of course), logging miles in the dark can be a blast. See quick info below on some of the best lights from our testing, then scroll deeper for longer reviews of these and other top-performing models, plus buying advice.
How Bright?
Running on an open road under a full moon is a completely different experience than running singletrack trails beneath heavy tree cover—and both require different lighting. In general, look for a headlamp that's capable of cranking out at least 200 lumens on its high setting. Lumens is a measure of the light's intensity—brightness. Lamps with higher lumens—300 and up—are better for trails and starless nights. If you want a single light that is capable of multiple situations, look for one with more than just low, medium, and high settings. Some lamps can automatically adapt to the ambient light around you—handy if, say, you peek at your watch and don't want to be blinded by the reflection (the light dims a bit). Others allow you more manual adjustability.
Burn Time
Longer battery life typically comes at a cost: weight. Naturally, batteries with more capacity have to be larger. For some activities, that's no problem, but for running, extra weight and bulk can lead to annoying bounce. Some models cram the batteries into the lamp on your forehead, while others with exceptionally long burn times will separate the two components and place the power pack on the strap at the back of your head. If you want a budget light for laps around your neighborhood, the former will suffice. But if you're gearing up for an ultramarathon that will have you up all night, go for the bigger battery.
Rechargeable vs. Single-Use Battery
Who among us doesn't have a drawer full of micro USB charging cables? Well, there's a good chance your next headlamp will come with one as well. But the downside to rechargeables is that you could find the battery dead as you're headed out the door, when you don't have an hour or two to spare waiting for it to power up. If that sounds like you, opt for a light that runs off AA or AAA batteries, and stock up. Some headlamps (see the Silva Trail Runner Free H and Black Diamond Sprinter 500 below) work with either AAA batteries or a rechargeable battery pack.
Types of Lights
You'll save money by getting a light with a single lamp that puts out a consistent beam. But more advanced options include both a spotlight and a flood, allowing you to use each separately or combine the two for maximum brightness. You'll find the spotlight is great for casting the light farther down the road or brightly illuminating the trail directly in front of you. A floodlight, on the other hand, diffuses the beam, spraying light to the sides as well to help with peripheral vision.

How We Tested
Every headlamp on this list has been evaluated and used by our team of test editors. We research the market, survey user reviews, speak with product managers and designers, and rely on our own experience on roads and trails long after the sun has set (or before it comes up). In addition to evaluating these headlamps for their adjustability and beam types, we tested the lights' brightness over time to determine how long each shines at full power. To do so, we turned each lamp on at its maximum setting and pointed it at a digital luxmeter on the ground roughly two strides away—about as far as you'd look ahead on technical trails. We measured the intensity at 15-minute intervals to see how quickly the light faded. Most models gradually dimmed over time, though a few fell off quickly—Black Diamond and BioLite say it's an industry standard to drop intensity as your eyes adjust to the darkness so they can extend run time. For such lamps, the max lumens and battery life are a bit misleading, since you'll never be able to keep the lamp at 100 percent for more than a few minutes.
---
LIGHT AND BRIGHT
Black Diamond Sprint 225
Lumens: 225 | Weight: 51 grams | Battery: Rechargeable (2 hours on high, 20 hours on low)
We love this sleek, compact headlamp for running because of its performance and features, combined with its comfortable fit. The slim headband doesn't look all that sturdy but does a great job of keeping the small light from bouncing, and the easy adjustability makes it dead simple to change brightness. Instead of clicking a small button to dim or brighten the lamp, simply swipe up or down past sensors on the side of the housing to change intensity—it even works with gloves and sweaty hands. A note about the "two hours on high" battery claim: Our testing found the Sprint 225 dims considerably during the first five minutes on high power—a far faster drop-off than most lamps on this page—and then settles into a medium intensity that Black Diamond says is intended as a "power-saving feature." We found that medium intensity is plenty bright for both trail and road running, and it remained steady for the next three hours. But just know you won't get a full 225 lumens for more than a few minutes at a time.
---
FIT ADJUSTS FAST
Petzl Iko Core
Lumens: 500 | Weight: 79 grams | Battery: Rechargeable or 3 AAA (2.5 hours on high, 100 hours on low)

This is the most radical design for a headlamp we've seen yet. It eschews the usual stretchy straps for a plastic halo that wraps your head—a bungee strap pulls it tight from the back side. The entire unit is lightweight and well balanced. A tiny front light with seven white LEDs is thin and lightweight. You can turn on just three, all seven, or hit seven on max brightness. Even then, it's not the brightest light around—rated at 500 lumens, it doesn't cast a beam very far, but those qualities make it good for navigating technical trails in the dark. It's powered by a small rechargeable battery mounted on the back of your head that can be swapped out for three AAA batteries in a pinch, boosting its versatility. "This is the headlamp I reach for most often for my dawn patrol runs on streets with poor lighting," Runner-in-Chief Jeff Dengate says. "It's not so bright, but lets me see busted up sidewalk and holes along the canal path."
---
LIMITLESS LIGHTING OPTIONS
BioLite HeadLamp 800 Pro
Lumens: 800 | Weight: 150 grams | Battery: Rechargeable (7 hours on high, 150 hours on low)
BioLite is redesigning all of its headlamps to include a larger button that's easier to use with gloves, but is keeping the soft, stretchy headband that eliminates bounce. The 800 Pro is a new addition to the lineup that casts more light, lasts longer, and has some extra functionality to improve your safety.
The options for lighting on the 800 Pro are impressive: You can click the power on and return back to your last setting. At the end of your run, a single click turns it off without having to toggle through the various lighting scenarios. But, say you want to change from a spot beam to a flood or combo, you just keep clicking as soon as you power up and it'll rotate through the options.
Unlike other BioLite headlamps that automatically dim after a short period of use, you can request the full 800 lumens to stay on for 30 seconds by pushing a dedicated button on top of the battery pack. If you don't click that button again, it'll automatically return to the normal brightness. It's handy in those moments when you're really missing the sun.
Another feature that seems strange but has been confidence inspiring is the red LED light on the backside, which you can turn on independently of the headlamp. At dusk, when the daylight is fading but you might find it still just too bright to need a headlight, you can turn on the rear blinker to make yourself more visible to car drivers.
Ultrarunners will love this light because, should you kill the battery, you can plug it into a USB power bank and recharge it while you're still using the headlamp. The charging cable includes a small plastic clip to attach to a jacket or pack strap and reduce bouncing while you're in "pass-thru" charging mode.
---
BEST UPDATE
Black Diamond Sprinter 500
Lumens: 500 | Weight: 105 grams | Battery: Rechargeable (3.5 hours on high) or 3 AAA (4.5 hours)
The Sprinter 500 is reminiscent of the Icon that we've come to love, but in a more runner-friendly package. It, too, uses the rear-mounted battery pack and over-the-head stabilizing strap, but the battery pack and lamp unit both are smaller and lighter so they won't wiggle a bit when you're bounding down a dark road. Like the Sprinter 275, the 500 model still operates with a rechargeable battery pack or three AAA batteries. The major difference is—you guessed it—an additional 225 lumens. And, while its runtime isn't all that impressive on a spec sheet, we've found you can dial back the intensity to get through any overnight ultra outing. If you need the high-beam and drain it, swapping to disposable batteries is quick and easy. A favorite feature of ours is the lamp's memory feature, so the beam is the same brightness every time you turn it on.
---
BUDGET-FRIENDLY
Energizer Vision Ultra HD
Lumens: 400 | Weight: 140 grams | Battery: Rechargeable (4 hours on high, 15 hours on low)
A surprisingly versatile headlamp at a dirt cheap price, Energizer's Vision Ultra HD shocked us with how much light it puts out—a claimed 400 lumens. The spotlight was bright enough to illuminate the road a good distance in front of us, and switching it to flood mode cast a wide spread closer to our feet when we wanted to see where we were actually stepping. Plus, it has both red and green night vision LEDs. "I've been using the red to read in bed at night, to be honest," Dengate said. Of course, a budget lamp sometimes has trade-offs. The charging cable for our sample had been crimped in the packaging or damaged before being sealed up, because the insulation around the wires was damaged. We were able to repair it ourselves rather quickly, and we haven't had any issues since. Still, we'll be keeping an eye on the continued durability of both headlamp and charging cord.
---
ULTRARUNNER'S PICK
Black Diamond Icon
Lumens: 700 | Weight: 232 grams (with batteries) | Battery: 4 AA (70 hours on high, 175 hours on low)

Few things derail dawn-patrol mojo as abruptly as reaching for your headlamp and discovering that its rechargeable battery is dead. That won't happen with the Icon, which runs on four AAs that seemingly never run out. The lamp didn't put out its brightest light for a full 70 hours—we found it dips to medium intensity after the first 30 minutes. But it was still shining more brightly after three hours than nearly every other lamp here at their brightest settings with fully charged batteries. When the batteries do eventually start to run low, a small light on the bottom of the lamp changes from green to yellow to red, indicating how much juice is left. Black Diamond smartly positions the battery pack on the back of the head strap for a more balanced load, so you're more comfortable. But if you're the type to run in a polar vortex, you can use the included extension cable and move the battery pack inside your jacket so the cold won't sap the power prematurely. Because of that dependability, Pat Heine, Runner's World's video producer and resident ultrarunner, packed the Icon as his light of choice for 2019 UTMB—and kept it burning brightly throughout the 100-mile race in cold and wet weather.
---
IPX5 WATER RESISTANCE
Silva Trail Runner Free H
Lumens: 400 | Weight: 112 grams | Battery: Rechargeable (2.5 hours on high) or 3 AAA (25 hours)

Following up on Silva's tank-like ultrarunning headlamp, the Trail Speed 4XT (below), this lighter, slimmer model works on short trail and road runs. The battery pack is a slim hybrid unit mounted on the back of the headband and, rather than routing coiled cables through clips, the power passes through the headband itself. It's a neat feature that makes the lamp even more comfortable in use. But, if you need to stash the battery pack inside a jacket for especially cold outings, a longer cloth-wrapped cable is included.
The lamp offers only three brightness settings, and you can't select different lights (beam/flood). But it has a combination that works well at running speeds—a floodlight hits the ground nearest you while a sharper beam is cast farther ahead. In our tests, it held its max brightness consistently for the first two hours, but fell off a cliff by the end of the third hour; its light was so dim you couldn't find your way out of the woods on a moonless night. Another really cool feature is the ability to toggle a rear red light for road running. Inside the battery case, a switch can be set to off, on, or blink.
The "H" in the name stands for "hybrid" battery. A version that runs on only three AAA batteries costs a bit less, or you can get one with a larger battery pack for $140.
---
360° VISIBILITY
Knog Quokka Run 100

Lumens: 100 | Weight: 48 grams | Battery: Rechargeable (2.5 hours on high, 25 hours on low)
This simple little model pulls a neat trick. When it's illuminated, two red LEDs shine throughout the clear silicone headband, basically making it a halo so you're seen from all directions. You can choose to turn those red lights on or off, or to make them blink. And, amazingly, there is a wide variety of other beam configurations from such a budget-friendly headlamp: You can choose high, medium, low, or flash from the spotlight, floodlight, or a combo of the two. We liked that it also stays on at full intensity until it dies, rather than automatically dipping in brightness after a few minutes like other models here. Then again, it's a 100-lumen lamp, so don't expect it to perform like a car's high beams.
---
MOTION SENSING
UltrAspire Lumen 300 Sidekick
Lumens: 300 | Weight: 74 grams | Battery: Rechargeable (4 hours on high, 13 hours on low)

This little lamp has a fun trick: Turn the dial around the lens and you can focus the light from a spot to a flood, and just about anything in between. Even if you choose to cast a small beam far out ahead of you, enough light still falls off closer to your footstrike. This helps create shadows, which serve to boost your depth perception and orient your vision to what lies in wait of tripping you up. Plus, you can swipe your hand in front of the light to turn it off or on quickly. It's a cool feature you don't typically see on lamps at this price, and using it can make it easier to conserve some battery life.
---
EXTREMELY DURABLE
Lupine Neo X2 SmartCore
Lumens: 900 | Weight: 186 grams | Battery: Rechargeable (2.5 hours on high, 50 hours on low)
Compared to most headlamps, the Lupine is a beast. The lamp itself is bombproof, cold-to-the-touch metal. And it needs to be able to take a beating, as Lupine designed it to work for cycling as well. Its 900 lumens put it easily into "running with headlights" territory, and to be honest, under most conditions, it's complete overkill. At that brightness you're bound to be blinded by the reflection off of trees and the ground, and it drains the battery in less than three hours. Notch it down to a mellower 500-lumen setting during a full moon and to make it last through nearly any long run. At $275, the Neo X2 is easily the most expensive headlamp here. Plus, additional batteries will set you back $80 to $120, and there's no option to throw in some AAs if you're traveling and the battery pack quits on you.
---
TINY AND SIMPLE
Princeton Tec Byte
Lumens: 200 | Weight: 60 grams | Battery: 2 AAA (3 hours on high, 80 hours on low)
Only a couple of lamps here are lighter weight than the Byte, but none are more affordable. Of course, there are tradeoffs with a budget headlamp. In this case, you get just one white LED that has two brightness settings (plus a very dim red LED), and neither is all that bright. But if you're out before the birds, doing laps around your familiar neighborhood loop, and want just a little more visibility between the streetlights, the Byte gets the job done. "I keep a Byte in my travel bag, so I know I always have a headlamp wherever I go," Dengate says. "And, because it takes AAA batteries, I'm almost never left in the dark."
If you're willing to spend an extra $40, Princeton Tec's Axis model more than doubles the lumens and a hybrid option to recharge with a micro USB cable. During our testing, we found the bulkier profile protrudes slightly, but didn't bounce around. We also appreciated how easy it was to use, even while wearing gloves. Push the single, large button on the side to switch the beam between its four modes, and twist the button's outer dial to adjust the brightness.
---
COMFORTABLE FIT
BioLite Headlamp 330
Lumens: 330 | Weight: 69 grams | Battery: Rechargeable (3.5 hours on high, 40 hours on low)
BioLite is better known for its camping gear, with a range of cookstoves and fire pits. It also makes solar and camp lighting products, so a headlamp was a natural addition—one that runners will embrace. The battery pack is separated from the light and positioned on the back of the headband. Both components are exceptionally thin and lightweight, so there's no bouncing no matter how fast you run. The unit turns out 330 lumens at its brightest, but, like we found with Black Diamond's lamps, the intensity dips within the first few minutes as your eyes adjust to the dark, so you're not really getting "high" for the full 3.5 hours. We like the versatile lighting configuration, however, with four settings, including a strobe and red night mode. Plus, the headband, made from a performance Lycra that won't rub or irritate, was one of the most comfortable we've ever worn. Our lone gripe is that the small tab used to adjust the light's angle is tricky to get a hold of when the lamp's on your head—and don't even think about trying to grab it with gloved fingers.
---
BLINDINGLY BRIGHT
Ledlenser Neo 9R
Lumens: 1,200 | Weight: 199 grams | Battery: Rechargeable (5 hours on high, 120 hours on low)

There's a lot to like about the Neo series of lights. A 1R is a minimalist lamp that I carry in a waist pack when I head out around sunset and am not sure if I'll outrun the dark. The 5R has separate spot and flood lights for greater versatility. But the 9R is loaded with tricks that will light up any situation.
The high setting lasts for five hours on a full charge, but you'll likely get much longer than that because 600 lumens really is still too bright for most situations. Dial it back to mid-power and you'll get 12 hours. The low setting is fine on roads, as it only casts a usable beam a few meters ahead, but it'll go for days. The neat feature though is the "boost." Double-tap the front button and a 1,200-lumen stream gets shot out for just 10 seconds. As a runner, you're never going to need that much firepower, but, if you want it, it's there.
The battery pack is one of the biggest of any lamp here, but it also has an integrated red light that flashes for 360-degree safety. One small gripe is that it uses a proprietary charging cable, but we like the magnetic attachment. Still, it's another cable you might misplace.
Trail runners will like the additional waist strap, which allows you to convert this light into a fixed body light that casts better shadows and gives you a clear view of the ground ahead.
---
VERSATILE AND AFFORDABLE
Nite Ize Radiant 300
Lumens: 300 | Weight: 91 grams | Battery: Rechargeable (4 hours on high, 36 hours on low)
The Radiant 300 is one of the bulkier models here, but its affordability and versatility make it a strong option for runners. It has a bright beam and separate buttons for the spot and flood/red lights, plus you can combine those LEDs in any way you want—dim spot and bright flood, for example. The light burns brightly for roughly 30 minutes before dipping by about half. That medium setting, however, held steady for another three hours in our brightness tests. Out on the road, we noticed a weird halo in our peripheral vision where the spotlight abruptly ended, but it wasn't too bothersome when we were looking straight ahead. Ultrarunners will appreciate the ability to lock the light—hold the spot button for five seconds to prevent the headlamp from turning on inadvertently as it bounces around in your pack.
---
MULTIPURPOSE LIGHTING
Princeton Tec Snap
Lumens: 200 | Weight: 98 grams | Battery: 3 AAA (40 hours on high, 130 hours on low)
The novel Snap is an all-in-one system that easily converts from a headlamp to a bike light or even as a multipurpose lamp around your campsite. The trick: It uses a magnetic attachment to, yes, snap the LED light into multiple mounts—included are the head strap, handlebar attachment, and a carabiner clip. A single button turns on the light, dims it, or sets it to flash, and you can even work it with lightweight running gloves. We found the light quality is also best suited for multiple situations; it doesn't have a strong spotlight, but the bright, wide fill illuminates your path of travel.
---
POINT THEM ANYWHERE
Knuckle Lights Advanced
Lumens: 280 | Weight: 266 grams | Battery: Rechargeable (4 hours on high, 8 hours on low)
These lights are worn (obviously) on your knuckles, with an adjustable strap that fastens them tightly to a range of hand sizes. Each light delivers 140 lumens, which may not sound impressive compared to some other models here, but you have two lamps and you can direct the beam wherever you want. The lights offer three intensities—bright, soft, and strobe. As you swing your hands, you always have a light pointed out in front of you, and that swinging motion is extremely attention-grabbing for car drivers. One downside: If you need to tie your shoe in the dark, you need to get creative with how you hold the light so you can actually see what you're doing.
---
BEST FOR NEIGHBORHOODS
Nathan Sports Neutron Fire RX
Lumens: 200 | Weight: 36 grams | Battery: Rechargeable (up to 25 hours)
The small and sleek Neutron Fire has been around a while, but new to the market is the "RX" version, which is rechargeable via a USB cord. The omission of batteries makes it featherlight. The lamp has five lighting modes: low, medium, high, boost (which kicks up the beam to 200 lumens), and strobe. The high beam shines at 160 lumens, which was okay on neighborhood streets illuminated with lights, but not enough for trails that demanded technical footing. The strobe—which glows on either side of the main beam—shines red, blue, or green for fun color options. Note: The angle adjusts with an almost too-forceful click.
---
LIGHTEST WEIGHT HYBRID
Petzl Actik Core
Lumens: 450 | Weight: 75 grams | Battery: Rechargeable or 3 AAA (2 hours on high, 130 hours on low)

This headlamp has a neat feature: It can be run off either three AAA batteries or a rechargeable "Core" battery pack that comes with the lamp—and you don't need any special converters. Best of all, the micro USB charging port is built into the battery pack, so, in a pinch, you can leave it plugged in at home while you use the headlamp with AAA batteries. In use, it has three modes, with a floodlight and spot beam, plus a red lamp that lets you see in the dark without blinding yourself or your running partners. Plus, the band has 360-degree reflective accents and a whistle built into one of the adjustment buckles.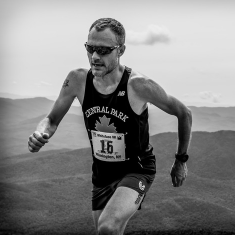 Runner-in-Chief
Jeff is Runner-in-Chief for Runner's World, guiding the brand's shoes and gear coverage. A true shoe dog, he's spent more than a decade testing and reviewing shoes. In 2017, he ran in 285 different pairs of shoes, including a streak of 257 days wearing a different model.